Lawrence Graham Global Client Event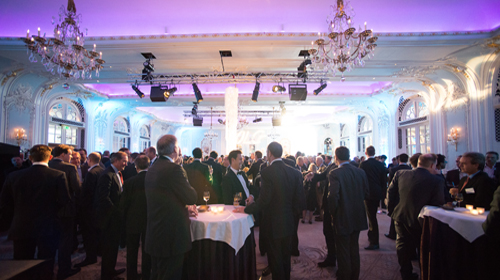 Client: Lawrence Graham LLP, part of Gowling WLG, a Global 100 legal practice, with over 1,400 legal professionals and a range of dedicated business support teams across 18 cities in the UK, Canada, Europe, Asia and the Middle East.
Event: Savoy Hotel, London 
SJP where tasks to deliver a sophisticated high end experience for Lawrence Grahams global leading clients. The event was a thank you for clients loyal support to Lawrence Graham, one of London Leading global Law firms. The event was designed to make the executive audience feel relaxed and create the ideal environment for peer to peer networking with a program of entertainmenent that enhanced their experience.
In order for us to ensure we got the tone of the event correct we engaged with the Savoy and even though the ballroom at the Savoy is a beautiful space we enhance this by using pockets of experiences, with seating and lighting to perfectly orchestrate areas for networking. The transformation was amazing and we were able to finely balance the business from the fun and delivered an outstanding event.
'The SJP team really excelled themselves on this event, we have been working with them for many years and they have always delivered and this was certainly no exception, definitely the best to date for our client event! Thank you for all your hard work!
Jenny Forward  
Business & Marketing Executive